This month, we would like for you to meet an "amazing" family: the Vieira's. The Vieira Family includes Anna (mom), John (dad), Jocelynn (older sister) and Noah.
When Noah was 18 months old, Anna started noticing he was not making eye contact with her and the other family members. By the time Noah was 2, he had stopped talking and was not playing with toys like other children his age. Mom scheduled an appointment and explained her concerns to Noah's pediatrician. The pediatrician referred them to a psychologist who diagnosed Noah with Autism Spectrum Disorder (ASD) at age 3. Soon after receiving the diagnosis, the family transferred from Georgia to California and Noah began receiving services. Although he received 4-6 hours of in-home therapy each week, Noah made minimal progress.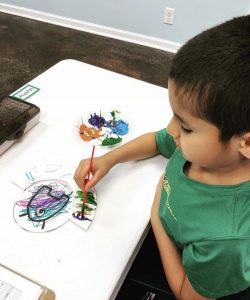 With John actively serving in the U.S. Army in 2014, the family was again transferred, this time to Fort Campbell, Kentucky. Anna immediately began searching for resources in the Clarksville, Tennessee area. She soon discovered AutismETC's website. In October 2014, Anna met with Clinical Director, Carissa Coker. She describes the first meeting, "Carissa was awesome, attentive, and very passionate about helping kids affected by ASD. She's been so helpful to us and continues to be. When Noah began receiving services at AutismETC, I was very overwhelmed. I received lots of information and was asked to make numerous changes in our home. It was all so new to me. We went from 6 hours per week of in-home therapy to full-time (30 hours) of ABA therapy at the center. All I can say is it has been awesome watching him grow and being able to express himself."
Noah participates in the Day Therapy Program and has made tremendous progress. "When he started services," said mom, "he was non-verbal, was not potty trained, and was unable to express his feelings or do things for himself. Being at AutismETC has been life-changing. Noah is talking, he is potty trained, and he is happy to be here." In order to receive full-time services, Noah had to be withdrawn from the regular school system and enrolled in an accredited homeschool program. "Watching the staff work with Noah – 'it's amazing'."
When asked what other services impacted the family, Anna explains, "Oh my goodness, the parent training has been tremendous. I have learned so much watching the staff work with my child. They are a team who is here for my child – 'it's amazing'. Their help has made the journey so worth the effort."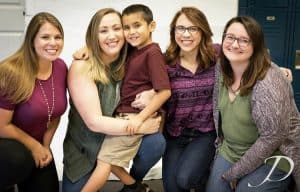 For families just receiving an ASD diagnosis, Anna has these words of advice: "It's a new way of living with a lot of changes and challenges, but you'll learn so much. It is important to have a great team to help you through it all. You have to find someone who is willing to be open and honest with you: A person who respects your choices and wants what is best for your child. When you find a good therapist, hold on to them. Being a military wife, I understand that so many military wives do not have the support they need. I hope my story will offer support and encouragement for other parents in a similar situation."
Anna understands each day is a unique challenge but as she explains, "I am hopeful, grateful, and look forward to Noah's future." The assistance she has received at AutismETC has made a lasting impact. She challenges other parents to realize their child matters and each child has the ability to become a successful adult.
Like all military families, the time will come for John to be transferred to another military base. Anna is concerned what services will be available in their new area. "Our lives have truly been changed because of AutismETC. They are so awesome and have been so wonderful to our kiddo. It truly is 'amazing'."