"My children having autism has changed my life for the better" said Xochil Rhodes, mom of twin sons Jaxon and Weston. The Rhodes family includes Craig (dad), Xochil (mom), Jaxon and Weston, both four years old. The family is stationed at Fort Campbell where dad is serving in the military. He is currently deployed in South Korea.
Xochil began to notice "warning" signs in Weston when he was 6 months old. She figured he was just a little delayed. As timeprogressed, he was not babbling or making any child-like sounds. Xochil approached their pediatrician and insisted something was not right. After seeing 3 or 4 different doctors, Weston was seen by a development pediatrician who referred him to Vanderbilt University.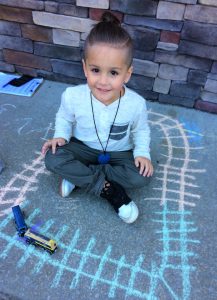 At 15 months of age, Weston was diagnosed with autism. He immediately began participating in their study program. Because Xochil was so focused on Weston, she did not immediately notice Jaxon was also exhibiting autism-related symptoms. He had begun to spin toys and was not making eye contact with her. Jaxon started showing signs about two months after Weston began services at Vanderbilt.
Fortunately, Xochil had developed a good relationship with Weston's study group and was able to have Jaxon diagnosed. Jaxon's diagnosis took place in the summer of 2016.
Therapy became a daily routine for the Rhodes.
Both Jaxon and Weston started receiving speech, occupational, and physical therapy in addition to the ABA therapy Weston was receiving at Vanderbilt. Xochil needed to find ABA services for Jaxon andwas referred to AutismETC in Clarksville. She looked into the center and immediately enrolled Jaxon in October, 2016. Xochil said, "I was nervous when Jaxon first began, but I had hope that something good would happen for my son. Everyone was extremely nice. Though it was overwhelming for me at the beginning, the staff took time to talk with me. They spoke to in a way that I could understand. That was helpful for someone who was new to all of this.
They included me in my child's program and welcomed me to sit in. AutismETC was not like a daycare where you drop off your child and you have little contact until you pick up your child. I was welcomed to come to the center anytime."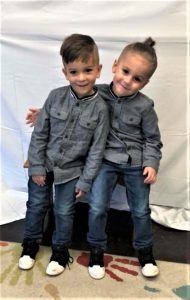 Weston joined Jaxon at AutismETC in May, 2017, when the Vanderbilt study concluded. Both boys began participating in the Day Therapy Program receiving services from 9 am to 3 pm, 5 days a week.
Xochil reflects on the boys' progress: "When Jaxon started at AutismETC at 2 years old, he was not potty trained. He did not say any words and did not even grunt. He was cognitively like a 7-month old baby and his receptive language was at a 12- month level. He now speaks in complete sentences, plays soccer, and participates in gymnastics. He does double-digit math and reads books from cover to cover. He will start kindergarten this fall and is now considered high functioning." When Xochil registered Jaxon for kindergarten and presented his paperwork to the school, she was asked if she wanted to have him skip to 1stgrade! Mom decided to keep him in kindergarten for the coming school year so he has more time to mature socially.
"Weston also continues to improve every day", stated Xochil. "He is working on developing more socially appropriate behaviors. He started talking about a year ago, but still does not speak in full sentences. However, he is able toexpress his wants and needs." Xochil is confident with continued ABA, Weston will continue to reach higher goals.
Xochil describes how autism has impacted her as a parent: "If my kids did not have autism, I don't know how attentive of a parent I would have been. It has forced me to be on top of everything and focus on them. I have become a parent who outwardly shows affection for my children and offers them praise. When my son was able to say, 'I love you' for the first time, it changed my world. I don't believe all of this would have happened had my children been 'typical'. I am grateful for every breakthrough like my children being able to talk. Without autism, I may have taken these milestones for granted."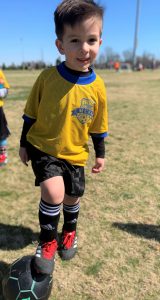 Xochil offers words of advice to parents just starting services: "Don't be nervous. There is a first time for everything. It's hard to leave your kids with people who you see as strangers. The staff of AutismETC is warm, welcoming, and trustworthy. You may feel guilty, but your child is in good hands. Kayla Ziolko is my children's BCBA. Her help has changed my life. She is amazing and always gives excellent advice. Whenever I have contacted her about my children, she has been there for me."
As a mom with twin sons on the spectrum, Xochil sees a bright future. "I see my sons being able to function in 'typical' settings. When they were first diagnosed, I was afraid my sons would not be able to enjoy many of the normal things in life. I am now able to see them going to a regular high school." Xochil went on to say, "When Weston was first given the diagnosis I thought, "this is it, this will be forever. I will always have to care for my son like I would a baby.' We had started a college fund for the children and when they were given the diagnosis, I thought this money would have to be used for their care as they would always have to live at home. That has changed. I believe we will be able to use these funds for their future education as I can see them becoming independent adults."