Meet the Fullers: AutismETC's June Family of the Month. The family includes Patrick (dad), Mary (mom), Big Brother Zachary (age 7), Little Brother Zane (18 months) and Zoey, age 4.
Patrick and Mary noticed something was different with Zoey when she was very young.
She was not developing language skills, had issues with eating, made no eye contact, would not play with other children and was very content playing alone in her room.  The Fuller's expressed their concerns to their pediatrician. It was first thought this was "second child syndrome" and she would grow out of it. To help her "grow out of it", Zoey began receiving occupational therapy and physical therapy. However, she was not making noticeable improvements.  The Fuller's pressed to have their child evaluated. When Zoey was 2½, she was diagnosed with Autism Spectrum Disorder. 
After receiving the diagnosis, the Fuller's placed Zoey in a developmental Pre-K program. Still, she made little progress. Finally, someone recommended they contact AutismETC. Patrick said, "We did not know what AutismETC was all about until we took the tour and the staff explained the program to us. When Zoey began services we were excited and overwhelmed. We did not know what to expect, but we were blown away at how AutismETC worked. Having a one-on-one therapist working with Zoey all of the time made my wife and me very happy." Patrick went on, "For the first four months Zoey was a part-time client. She then became a full-time client, attending the Day Therapy Program (DTP) 6 hours a day, 5 days a week."
When asked how the training provided by Autism ETC has impacted their family, Patrick stated, "The training has helped my wife to understand more about Autism.  I researched autism and learned each child is affected differently. We recently sat in on a session. Zoey's BCBA and RBT explained how they were working with Zoey and offered suggestions. They also gave us their contact information so we could contact them directly with questions. This made us feel supported as a family."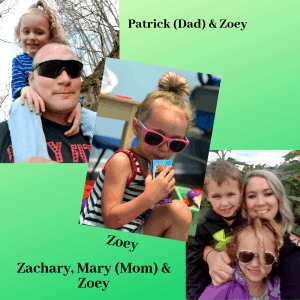 Patrick reported Zoey has made great progress since coming to AutismETC.  "Everything she was not doing, she is able to do now. She makes eye contact and responds to her name.  She has become a social butterfly at home, at the center, and with neighbors. She says hundreds of words and is able to make sentences and request items.  She will say, 'I want juice please', asks others how they're doing and communicates with other children. She no longer wants to play alone in her room. Because of AutismETC, Zoey is more advanced in some skills than her older brother was at this same age.  As parents, this is a weight off of our shoulders."
"I see her with an outstanding future. I see her 'belonging' in normal society, just like any other person. I believe when she becomes an adult, she will be able to live independently."

Patrick
Patrick offers this advice to parents who are just beginning services: "Be patient. Talk with the staff. Don't just drop off and pick up your child. The staff is a source of help that I would encourage parents to use. I am confident if there was an issue with my child at home, we could call her staff and they would help us. We love having a subject matter expert on call when we need them." Patrick went on to say, "The staff takes pictures and videos of Zoey and sends them to us. We feel like the staff is part of our family. Zoey loves her staff and is excited to go to the center. The staff is so vigilant and encourages us to be strong. They have helped us to learn that we need to allow Zoey to learn to do things on her own."
Looking to the future for Zoey, Patrick said, "I see her with an outstanding future. I see her 'belonging' in normal society, just like any other person. I believe when she becomes an adult, she will be able to live independently."
Patrick serves in the U.S. Army. Like any other military family, they move from time to time.  However, the family just received the good news they will be remaining in Fort Campbell so Zoey could continue her progress.  Patrick was excited to report the family will be able to stay in Ft. Campbell for at least one more year (perhaps longer), giving give Zoey more time at Autism ETC.